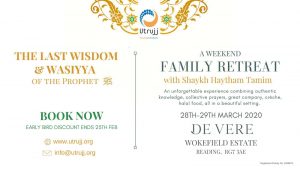 The Last Wisdom and Wasiyya of the Prophet ﷺ
POSTPONED UNTIL FURTHER NOTICE
*** BOOKING LINKS ***
Single Rooms SOLD OUT
Twin Rooms SOLD OUT
Double Rooms SOLD OUT
Family Rooms SOLD OUT
Creche SOLD OUT
Day Delegates (non-residential) (£75 – £125)
Day Delegate
ALL ATTENDEES above the age of 3, need to book at the day delegate rate. This is a flat rate for all adults and children.
Creche and children activities need to be booked in addition to the delegate rate. 
Friday
Due to popular demand we have added a Friday Night Booster Session. This will include congregational Isha prayers, voluntary collective worship, a small reminder from Shaykh Haytham and a light refreshments. You may check in anytime after 6pm. 
Friday Booster Session (£85 – £150)
Children's activities
We are now also offering a tailor-made set of activities on Saturday for our 10-14 year olds! There will be four hours of fun as well as Islamic learning to run alongside the adult timetable. 
Please book here:
Children Activities (10-14 years) (£27)
Content
Shaykh Haytham Tamim will reflect on the key points from the Prophet's ﷺ last pieces of advice to his companions and to us, his ummah. He will extract the most important elements of the Prophet's ﷺ legacy.
What is the legacy of the Prophet ﷺ?
By the end of his life, the Prophet ﷺ had conveyed the message of Islam for 23 years one bit at a time. Our deen had been completed.
When his time on earth was nearing to a close, he highlighted certain concepts over others. His last teachings were the culmination of the teaching of his prophethood, the most valuable advice he could leave the ummah that he loved so much, and his final legacy.
What was the advice in the Prophet's ﷺ  last will and testament to his followers?
The Prophet's ﷺ legacy has to endure through time. It is to be carried by us, his followers and passed on to our next generation.
Learn what you need to know and to pass on. What better opportunity to rejuvenate your heart before Ramadan!
Retreat info
The course will be delivered over multiple teaching sessions throughout the weekend.
There will be opportunities to ask questions, and join in both congregational prayer and qiyam ul layl.
Halal and nutritious buffet meals, a congenial ambience and invigorating natural surroundings serve to provide the detox we so desperately need.
To enjoy the full experience attend as a residential delegate. Or you may attend as a day delegate until 5pm on Saturday. (Day delegates to do not have access to the hotel leisure facilities.)
*** BOOKING LINKS ***
Single Rooms SOLD OUT
Twin Rooms SOLD OUT
Double Rooms SOLD OUT
Family Rooms SOLD OUT
Creche SOLD OUT
Day Delegates (non-residential) (£75 – £125)
Friday Booster Session (£85 – £150)
Children Activities (10-14 years) (£27)
A Whole Family Experience
Utrujj retreats are a whole person, whole family experience.
Leisure time is a staple during the Utrujj retreat, with opportunities to connect with oneself, loved ones, friends new and old.
Select from a choice of, creche provision and family rooms.
Creche
Children up to the age of 12 years will be expected to take a place in the creche, unless you have arranged alternative childcare.
An independent programme of age-appropriate activities will be arranged for them.
The Venue
The Reading Wokefield Park Estate boasts scenic grounds, an onsite pool, gym and sports facilities, as well as exciting outdoor activities.
If you would like to check in on Friday evening please write to info@utrujj.org with the details of the residential booking/s you are making and the attendees and we will be able to advise you of costs for Friday night and how to make payment.
*** BOOKING LINKS ***
Single Rooms SOLD OUT
Twin Rooms SOLD OUT
Double Rooms SOLD OUT
Family Rooms SOLD OUT
Creche SOLD OUT
Day Delegates (non-residential) (£75 – £125)
Friday Booster Session (£85 – £150)
Children Activities (10-14 years) (£27)