£47   £37 Early Bird (til 28th January)
Online Course – On Zoom
WATCH LIVE or RECORDED.
You will receive a link to join the sessions and the recording afterwards to watch in your own time.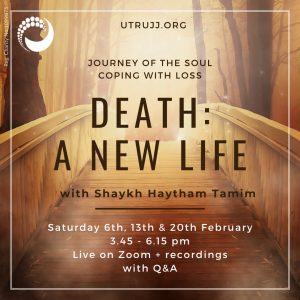 ---
At a glance
Saturday 6th & 13th & 20th February 2021
3.45pm to 6.15pm
Live Q&A
Suitable for Student Profiles**: Busy Bees, New Muslims and Path Seekers
What is the course about?
'Every soul shall taste death.'
Though we all know this ayah well, over the last year death has touched all our lives.
We have experienced a collective and close encounter with death.
This course will help you understand death and loss.
What will be covered?
•How to prepare for death, the etiquettes around someone who is dying.
•The moment of death.
•The presence of angels and shaytan.
•The good end and bad end.
•The journey of the soul.
•An explanation of the grave and barzakh.
•The trial of the grave.
•The etiquettes of morning and iddah for women.
•Understanding death as a conceptual gateway to return to Allah, to eternity versus the end in the western belief system.
Loss and grief
How does a Muslim deal with death of their loved ones – infants, children, parents, their elders, friends and community members.
Etiquettes of talking about the demise of someone, what can we say and can't we say and do.
Can women go to funerals and grave yards? Can you hold a khatam?
How does one deal with the death of a non Muslim who was very dear to them what can and can't they say.
Degrees of Martyrdom. (Are people dying of Covid same as the martyrs of battle?) How to offer funeral prayers. The etiquettes of visiting extremely sick people what can and can't be said. How to deal with loved one in a coma. Organ donation in the light of Islam.
What can you do for the deceased? What duas can you make?
Course overview and objective
To gain an understanding of what Islam teaches us about death and how to deal with the reality of it in our lives.
Course outcomes
You will gain a clear understanding of how to prepare for death and what happens during death, and the etiquettes surrounding death.
**Student Profiles
In order to make it easier for our students to attend courses which are suitable for them we have created these fun profiles, see which applies to you and if the course is marked as suitable for your profile.
 Busy Bee – student keen on being busy in learning good in the company of good people, looking for reminders to refresh their knowledge and practice of Islam, or has a busy life so dips into whatever he or she can within their schedule
Path seekers– students who are at the start of their Islamic knowledge journey, keen to learn and understand the foundational knowledge that will help connect better to Islam
Deep divers – students who have been on the path of acquiring knowledge and feel committed to build their technical depth and understand of the various sciences of the Quran  New Muslims – students who have recently reverted to Islam and are looking for authentic, trusted and reliable knowledge delivered to them in an easy to understand and gentle manner
Add to cart
In cases of financial hardship please get in touch at info@utrujj.org