A Journey Through the compilation, authentication and application of the Prophetic Sunnah.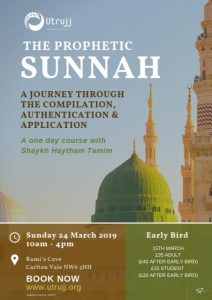 Adult £40 £35
Student £20 £15
Join Shaykh Haytham Tamim on this one day course on:
The Prophetic Sunnah
A Journey though of the  compilation, authentication and application of the Sunnah.
On Sunday 24th March
At Rumi's Cave, Carlton Vale, London NW6 5HH.
This will be a crash course on the journey of Sunnah, its compilation, authentication and preservation.
1400 years on how do we know the Sunnah is authentic?
How was it compiled and can we guarantee its reliability?
How was the science of the compilation developed? And how were manuscripts authenticated?
How was this science unlike any other form of preservation of any previous divine revelation?
We will look at the unofficial and the official compilation of the Sunnah, the rules and maxims created to protect the Sunnah and the narrators, the isnad – chain of transmission and the criteria of the unbroken chain of narrators.
A vast subject, with its fascinating and unique science, with thousands of books on the subject, will be condensed down for you in a one-day course.
Step back into Islamic history and find out what our heritage is based on.