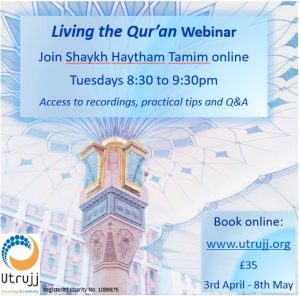 Live Online Webinar
Tuesday 8.30-9.30pm
£35
The sessions will be on the following dates, 8.30-9.30 pm, inshallah:
Tuesday 03/04/18
Tuesday 10/04/18
Tuesday 17/04/18
Tuesday 24/04/18
Tuesday 01/05/18
Tuesday 08/05/18
Come and join us even if you've missed some of the sessions! You'll receive an email with links to the recordings of the sessions immediately after purchasing so you can watch all of them inshallah!
To BOOK NOW, add the event to cart (below) and follow instructions to checkout.
Living The Qur'an Live Webinar