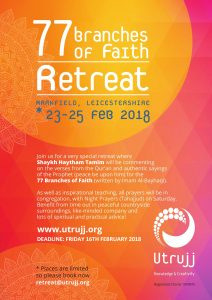 The Seventy Seven Branches of Faith | Part 3
With Shaykh Haytham Tamim
DATES
Friday 23rd– Sunday 25th February 2018
TIMINGS
Arrival
Friday 8pm (residential students only – for dinner and accommodation)
Saturday 9am (non-residential students – for tea and coffee)
Teaching
Commences on Saturday 10am prompt inshallah!
Departure
Sunday 2pm
VENUE
Markfield Conference Centre, Ratby Lane, Markfield, Leicestershire, LE67 9SY
SYNOPSIS
On the authority of Abu Hurayra (may Allah be pleased with him), the Prophet (peace be upon him) said: "Iman has over seventy branches, the highest and best of which is the declaration: 'None has the right to be worshipped but Allah', and the lowest of which is the removal of a harmful object from the road, and modesty too, is a branch of Faith." The Branches of Faith was written by Imam Al-Bayhaqi and has been translated into English by Shaykh Abdal Hakim Murad (T.J Winters). Join us for a very special retreat series where Shaykh Haytham Tamim will continue to go through each branch in detail, commenting on the verses from the Qur'an and authentic sayings of the Prophet (peace be upon him) for each branch of faith. An opportunity not to be missed!
UTRUJJ JUNIORS
A child care service for babies, toddlers and young children up to 11 years of age will be provided on Saturday and Sunday during all teaching sessions with registered Muslim Child Care Assistants. There are only 20 places available so book early to secure your child(ren) a place. Utrujj Juniors will be coordinated by Yasmin Haq. Children aged 12 years and above are welcome to sit in the conference centre but will remain the responsibility of their parents at all times.
ACCOMMODATION
Accommodation is provided on site in two low-rise residential blocks. It is basic student type accommodation. All the bedrooms are SINGLE non en-suite rooms. There are NO double rooms, triple rooms or family rooms on site. There are shared toilets and showers at the end of each corridor. If it is your first Utrujj Retreat please feel free to contact us to discuss the accommodation arrangements before booking your place. Please email retreat@utrujj.org.
LIMITED RESIDENTIAL PLACES – BOOK EARLY TO AVOID DISAPPOINTMENT!
RETREAT RATES
Residential Package
£89 | Adult Rate
£59 | Child Rate 4-11 years
£49 | Child Rate 0-3 years
Non-Residential Package (Sat & Sun)
£59 | Non Residential Adult Rate (12 years +)
£49 | Non-Residential Child Rate 4-11 years
£39 | Non-Residential Child Rate 0-3 years
Non-Residential Package (Sat Only)
£39 | Non Residential Adult Rate (12 years +)
£29 | Non-Residential Child Rate 4-11 years
£19 | Non-Residential Child Rate 0-3 years
ADD TO CART, CLICK VIEW CART AND FOLLOW INSTRUCTIONS TO CHECKOUT:
Adult Residential Rate
Child (4-11 years) Residential Rate
Child (0-3 years) Residential Rate
Adult Non-Residential Rate (Sat/Sun)
Child (4-11 years) Non-Residential Rate (Sat/Sun)
Child (0-3 years) Non-Residential Rate (Sat/Sun)
Adult – Saturday Only Rate
Child (4-11 years) Saturday Only Rate
Child (0-3 years) Saturday Only Rate