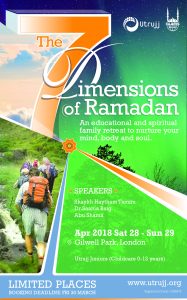 CLICK HERE FOR THE Utrujj Ramadan Retreat Brochure 2018 & Retreat Timetable
DATES: Saturday 28th – Sunday 29th April 2018
VENUE: Gilwell Park, Bury Road, Chingford, London E4 7QW
SPEAKERS: Shaykh Haytham Tamim, Dr. Saania Baig & Abu Shama
CONTENT: 
Shaykh Haytham Tamim will explore the 7 Dimensions of Ramadan. Dr. Saania Baig will share the health benefits of fasting, the main principles for a healthy fast full of vitality, the common problems faced by many in Ramadan and how to minimise these. She will also lead a Q&A session on all medical matters. Abu Shama will deliver a practical session on spirituality in the modern day and will address the following questions; what does it mean to be spiritual and how can you find the time to feel spiritual? He will provide practical advice to help you cultivate a spiritual personality.
RETREAT RATES
Retreat Package – Saturday and Sunday
£99 | Adult Rate
(Adult Rate: includes a course booklet/pen, tea/coffee/biscuits, lunch and dinner on Saturday and tea/coffee/biscuits and lunch on Sunday)
£59 | Utrujj Juniors – Child Rate 4-11 years
£49 | Utrujj Juniors – Child Rate 0-3 years
(Child Rate: includes Utrujj Juniors (childminding service for 0-2 year olds and indoor and outdoor activities for 3-11 year olds) on Saturday and Sunday, lunch and dinner on Saturday and lunch on Sunday)
ACCOMMODATION
Stylish, comfortable and best value accommodation set in 108 acres of beautiful countryside. With 40 bedrooms available, including singles, doubles, twins, family and fully accessible rooms, there is something for everyone. All rooms are set in The White House, a quintessentially Georgian country house in a stunning, London rural setting. A full English halal breakfast is included. The bedroom rates are per room (not per person) and will be charged in addition to the retreat package rates.
Single Room £60
Single Room (non en suite) £50
Double or Twin Room £85
Double or Twin Room (single occupancy) £70
Family Room (2 adults and 2 children) £110
Executive Double Room £95
Executive Double Room (single occupancy) £80
Luxury Double Room £105
Additional Extras
Extra adult bed £20
Extra child bed (aged up to 13 years) £15
Cot £5
If you would like to book accommodation for Friday and/or Saturday night please email Najma Majid at retreat@utrujj.org to check room availability and to reserve your bedrooms prior to booking your retreat package above.
Retreat Package – Saturday Only
£79 | Adult Rate (12 years +)
(Adult Rate: includes a course booklet/pen, tea/coffee/biscuits, lunch and dinner on Saturday)
£39 | Utrujj Juniors – Child Rate 4-11 years
£29 | Utrujj Juniors – Child Rate 0-3 years
(Child Rate: includes Utrujj Juniors (childminding service for 0-2 year olds and indoor and outdoor activities for 3-11 year olds), lunch and dinner on Saturday)
OUTDOOR GROUP ACTIVITIES – 12 PLACES AVAILABLE PER CHARGED ACTIVITY
Saturday 28th April 5.00-6.30pm
£9 | Archery (Outdoors)
£9 | Archery (Indoors)
£9 | Kayaking
£0 | Hiking (FREE)
Sunday 29th April 1.30-3.00pm
£9 | Rifle Shooting
£0 | Hiking (FREE)
ADD TO CART, CLICK VIEW CART AND FOLLOW INSTRUCTIONS TO CHECKOUT:
Adult Retreat Package – Saturday and Sunday
Child (4-11 years) Retreat Package – Saturday and Sunday
Child (0-3 years) Retreat Package – Saturday and Sunday
Adult Retreat Package – Saturday Only
Child (4-11 years) Retreat Package – Saturday Only
Child (0-3 years) Retreat Package – Saturday Only
Archery (Outdoors)
Archery (Indoors)
Kayaking
Rifle Shooting
Hiking